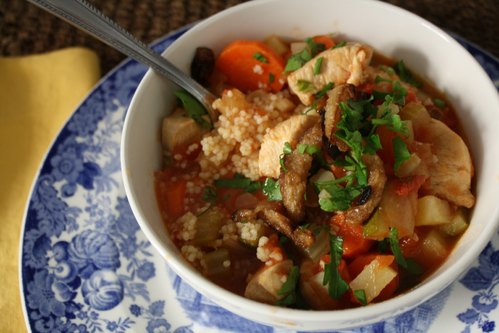 The inspiration for this inviting supper comes from combining hearty chicken soup with Middle Eastern couscous stew. One of the dishes I love ordering at North African or Middle Eastern restaurants is a two-step stew. First, the waiter delivers a bowl of couscous, loaded with flavorful cooked vegetables and chickpeas. Next, he pours a tureen of steaming hot broth over the entire bowl. Not only is there a real "wow" factor of having the dish created in front of your hungry eyes, but keeping the grains separate from the hot broth until serving preserves the texture of the couscous (like cereal and milk).
A tantalizing mix of textures and temperatures mingle in this one-pot meal – the warm fluffy grains of couscous, the soft tender vegetables, and the firm hunks of juicy chicken are topped with melt-in-your-mouth sautéed fennel and a cool parsley garnish. Get cooking!
To wow yourself, your friends, and your family – serve this dish just like they do at the restaurant. Give everyone a bowl of couscous and strained chicken and vegetables (just ladle it from the pot with a slotted spoon), and come around and fill their bowls with a measuring cup or tureen of hot broth. Then garnish with the fennel and parsley.
Time: 45 minutes (and the couscous only takes 5 minutes) / Hands-on time: 15 minutes / Serves: 5-6
Stew Ingredients
2 teaspoons olive oil
2 boneless, skinless chicken breasts (about 1/2 pound), cut into 1-inch pieces
1 medium onion, finely chopped
3 medium-large carrots, chopped
2 ribs of celery, chopped
1/2 bulb of fennel, tall stalks and leaves discarded and bulb finely chopped (reserve other 1/2 for garnish)
1 medium zucchini, sliced into rounds then diced into quarters
1 large yellow boiling potato (like Yukon Gold), peeled and diced
2 14-oz cans chopped tomatoes, with their juices (or 1 box of chopped tomatoes like Pomi, 26 oz)
4 cups chicken broth (approx. 1 32-oz box; can sub low-fat or unsalted as desired)
sea salt and freshly ground black pepper to taste
1/2 cup chopped fresh flat-leaf parsley (for garnish)
Couscous (Use whole wheat couscous if you can find it at your local market. Follow the directions on the package. It takes 5 minutes to cook)
Heat the oil in a heavy, 4-quart saucepan over medium-high heat. Add the chicken and 1/2-tsp of salt, and cook, stirring frequently, until the chicken has just started to brown – approximately 10 minutes. Remove the chicken and set aside.
Add the onions, carrots, celery, fennel, and zucchini to the pot and cook, stirring until the vegetables start to soften, about 3 minutes.
Stir the chicken back in, and add the potatoes, tomatoes, and broth. Bring to a boil.
Partially cover the saucepan, reduce the heat to medium-low, and simmer until the potatoes are tender and the chicken is cooked through, about 30 minutes.
Season with salt and pepper to taste.
Garnish with sautéed fennel and parsley before serving.
Sautéed Fennel: 
Slice the remaining fennel bulb into thin slices.
Heat 1 tsp olive oil to a small sauté pan over medium heat.
Add the fennel, and sauté, stirring/flipping the pieces occasionally while the soup cooks, about 30 minutes.
When done, the pieces should be brown and shriveled – they will taste sweet and the anise flavor that is so prominent in the raw vegetable will be mild.