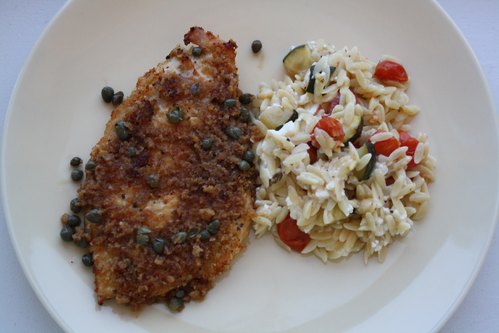 This is a comforting chicken dish that could quickly become a household favorite. The lightly breaded scallopini is pan seared and served with a white wine, lemon caper sauce. Try it with warm orzo, tossed with tomatoes, zucchini, and fresh feta.
Chicken Scallopini 
(adapted from Cooking Light) / Total time: 22 minutes / 4 servings
4 (6-ounce) skinless, boneless chicken breast halves
2 teaspoons fresh lemon juice
1/4 teaspoon salt
1/4 teaspoon black pepper
1/3 cup Italian-seasoned breadcrumbs (try Panko for extra crunch)
Cooking spray
1/2 cup fat-free, less-sodium chicken broth
1/4 cup dry white wine
4 teaspoons capers
1 tablespoon butter
Place each chicken breast half between 2 sheets of heavy-duty plastic wrap; pound to 1/4-inch thickness using a meat mallet or rolling pin. Brush chicken with lemon juice and sprinkle with salt and pepper. Dredge chicken in breadcrumbs.
Coat a large nonstick pan in cooking spray and heat over medium-high heat. Add chicken to the pan and cook 3 minutes on each side, or until the chicken is done. (done = browned and internal temp is at least 165F). Remove from the pan and keep warm (try putting chicken on a plate and covering with tinfoil).
Add broth and wine to pan and cook 30 seconds. Remove from heat. Stir in capers and butter. Serve over chicken.
Warm Orzo and Feta Salad
(adapted from Cooking Light)
1 teaspoon olive oil
1 cup cherry tomatoes, halved
1 cup zucchini, chopped
2 garlic cloves, minced (time saver: use the jar)
1/2 tsp. Italian seasoning
1/4 cup crumbled feta cheese
3 cups hot cooked orzo
1/4 tsp salt
Heat oil in a medium skillet over medium high heat.
Add tomatoes, zucchini and garlic.
Saute 2 minutes.
Stir in seasoning and saute 1 minute or until zucchini is crisp-tender.
Combine tomato mixture, orzo, salt, and feta and toss well.
Serve with Chicken dish.
Lunch Tip: Slice up the leftover chicken and use it in a salad with the leftover orzo and cherry tomatoes plus some fresh cucumber slices. Top with your favorite dressing.