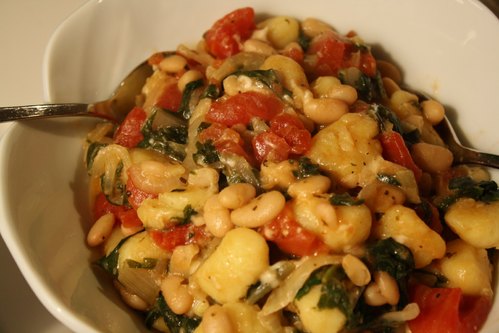 This rustic one-skillet dish from EatingWell's best hits catalog is easy to make, and even easier to clean up. Pillows of potato gnocchi mixed with tender Swiss chard, creamy white beans, sauteed onions, and cheese will warm you up faster than you can say "it feels like ten degrees below zero again?! COME on."
(I'm a poser because I moved south for the year – but that's a shout out to everyone in Boston and New York who have been having a cold, snowy winter).
Adapted from EatingWell's Skillet Gnocchi
Serves 6
Ingredients
2 TBL + 1 tsp extra virgin olive oil, divided
1 16-oz package shelf stable gnocchi (find it in the pasta aisle)
1 yellow onion, thinly sliced
4 cloves of garlic, minced
1/2 cup water
6 cups chopped chard leaves (1 small bunch) or spinach (*see note)
1 15-oz can diced tomatoes with Italian seasonings (garlic, basil, and oregano flavor)
1 15-oz can white beans, drained and rinsed
1/4-tsp freshly ground black pepper
1/2 cup shredded part-skim mozzarella cheese
1/4 cup finely shredded Parmesan cheese
*I have tried this recipe with both chard and spinach. I think the chard tastes a million times better. It's less watery and has more flavor than the spinach, which gets somewhat bland and limp in the final dish. However, if you check out the recipe's comment section, you'll see tons of people disagree with me and love the spinach – it's your call.
Recipe:
Heat 2 tablespoons oil in a large nonstick skillet over medium heat. Add gnocchi and cook, stirring often, until plumped and starting to brown. This may take up to 15 minutes – don't crank the heat too high or they'll start sticking and burning. Transfer to a bowl.
Add 1 teaspoon oil and sliced onion to the skillet and cook, stirring, over medium heat about 2 minutes. Stir in garlic and water. Cover and cook** until the onion softens, 4-6 minutes.  Add the chard or spinach, and cook, stirring until the greens start to wilt, 1-2 minutes. Stir in the tomatoes, beans, and pepper and bring to a simmer. Stir in the gnocchi and sprinkle with mozzarella and Parmesan
Cover and cook until the cheese melts and the sauce bubbles (that's when you know it's going to taste good), about 3 minutes.
Eat, trying as hard as possible not to burn your mouth. I failed.
**If you don't have a cover for your large skillet (I don't), use a sheet pan. Don't worry if the pan doesn't cover the entire skillet – it gets the point.