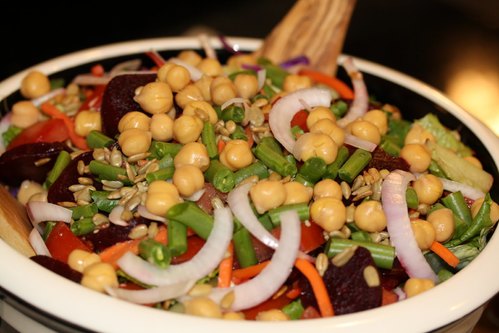 Thanks to the Moosewood Cookbook, I've got a new favorite dinner salad!
California Dream Salad (adapted from the Moosewood Cookbook)
Ingredients:
Romaine and/or Boston lettuce
Red cabbage or radicchio
Watercress or spinach
Brocco sprouts
Avocado
Tomato
Carrots and/or beets
Fresh green peas, snow peas, and/or green beans
Toasted sesame and/or sunflower seeds
1 Can chickpeas
Red onion or scallions (if you like 'em raw. I used them and regret it – red onions on a salad are too strong for me!)
Basically, go to the market and get whatever you think looks delicious. Use the ingredients list as a guide – follow it completely, somewhat, or not at all. Whatever you do, buy what you like. I challenge you to also buy one salad ingredient you've never tried and throw that in. With all of the good stuff in there, if you don't like the new veg, you can just pick it out – no big loss.
Instructions:
Clean and dry the lettuce, cabbage, and watercress (or whatever greens you chose)
Roughly chop or tear the lettuce and put in a big salad bowl
Peel off the outer layer of cabbage and cut into quarters. Cut off the stem in each quarter. Rinse in between the leaves and slice thinly to shred. (I only used 1/4 of my cabbage for the salad). Mix with the lettuce.
Roughly chop the watercress or spinach and toss it into the bowl.
Top with brocco sprouts
Cut the avocado and tomato into bite size pieces and add on top.
Add the shredded carrots and slice up the beets. Throw 'em on top.
Cut the beans into bite-size pieces and add to the bowl.
Top the salad with toasted seeds and chick peas.
Toss with dressing