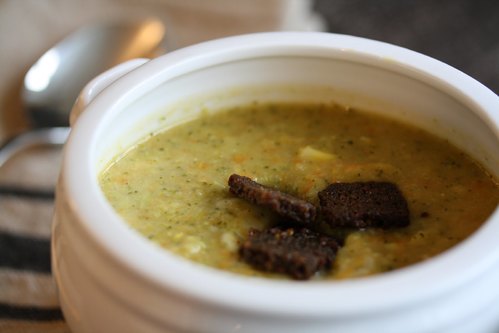 When you have a nice afternoon ahead of you, try putting a big pot of soup on the stove. It requires very little – just some basic chopping, some time for it to bubble away on the stove, and a bit of blending at the end. You can eat it that week, and freeze some for a convenient meal another day. Wait for it to cool down, and then put it in individually portioned freezable containers. Label them with the soup and date, and you're good to go.
A few weeks later, you get home on a dark night and don't feel like cooking. You feel like eating. What's in your freezer? It'll be easy to bypass the pre-packaged, preservative-full, water-puffed, salty frozen entree (ick), for a bowl of homemade, creamy veggie soup. 3 minutes in the microwave, some crusty bread and a glass of wine, and you've got dinner on the table.
I based this meal on EatingWell's broccoli cheese chowder and 101cookbook's crouton recipe. While the soup was cooking, I whipped up some homemade pumpernickel croutons (honestly, it's one of the easiest things you can cook in the kitchen).
Broccoli Cheddar Corn Chowder (adapted from EatingWell)
Ingredients
For the Soup:
1 Tablespoon extra-virgin olive oil
1 large onion, chopped
1 large carrot, diced
2 stalks celery, diced
1 large potato, peeled and diced
2 cloves garlic, minced
1 Tablespoon all-purpose flour
1/2 teaspoon dry mustard
1/8 teaspoon cayenne pepper
2 14-ounce cans vegetable broth
8 ounces broccoli crowns cut into 1-inch pieces, stems and florets separated (or buy a bag of pre-cut crowns)
1 cup shredded reduced-fat Cheddar cheese
1/2 cup reduced-fat sour cream
1/8 teaspoon salt
1 can of corn, drained
For the Croutons:
About 3 cups of your favorite bread, cubed. (I had pumpernickel on hand)
1/4 cup olive oil
1 1/2 Tablespoons whole grain mustard
1/4 teaspoon fine grain sea salt
Soup Instructions:
Heat oil in a heavy pot over medium-high heat. Add onion, carrot and celery; cook, stirring often, until the onion and celery soften, 5 to 6 minutes. Add potato and garlic; cook, stirring, for 2 minutes. Stir in flour, dry mustard and cayenne; cook, stirring often, for 2 minutes.
Add broth and broccoli stems; bring to a boil. Cover and reduce heat to medium. Simmer, stirring occasionally, for 10 minutes. Stir in florets; simmer, covered, until the broccoli is tender, about 10 minutes more.
Using an immersion blender or blender, puree the soup.
Stir in Cheddar and sour cream; cook over medium heat, stirring, until the cheese is melted and the chowder is heated through, about 2 minutes.
Mix in the canned corn
Season with salt
Serve with a sprinkle of cheese and a handful of croutons (see recipe below)
Crouton Recipe (make while the soup is cooking):
Preheat the oven to 350F degrees
Put the bread cubes in a large bowl and toss with the olive oil, mustard and salt until evenly covered.
Spread the cubes evenly on a baking sheet and bake for 10 – 20 minutes, or until the croutons are golden and crunchy. (Mine took 20 minutes – it really depends on the type of bread and your oven).
Toss them once or twice while cooking