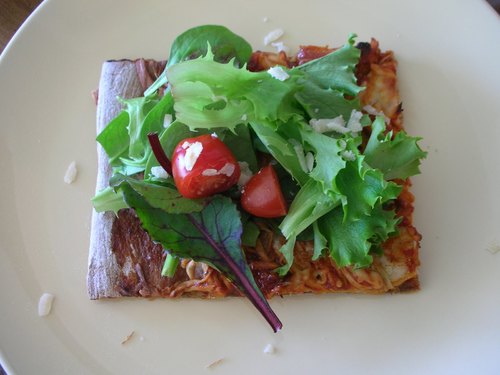 Tonight's Menu:
BBQ chicken pizza with caramelized onions on a rosemary whole wheat crust. It will be topped with an arugula salad dusted with freshly grated parmigiano reggiano. YUM.
OK, so this pizza is really easy to throw together, and you can add whatever toppings you want. In the end, my friend and I were way too hungry to bother caramelizing the onions, so we just threw them on raw and they were still delicious. This is one of those semi-prepared meals that you basically just assemble & bake!
Ingredients:
Whole Wheat Pizza Dough (I got mine at Trader Joe's in the prepared foods section or get it from your local pizzeria)
BBQ sauce
1 onion, sliced
Arugula or a mix of bitter greens
1 cup cherry tomatoes, sliced
1/2 bag of reduced fat shredded mozzarella
1/2 cup of grated parmigiano reggiano for garnish
rosemary
Directions:
Pre-heat broiler on high. Remove whole wheat pizza dough from the fridge and let it soften up for 20 minutes.
Put tinfoil on your broiler pan and broil 2 chicken breasts on high until cooked through. About 15 minutes on each side until browned and the juices are clear.
While the chicken cooks, put tinfoil on your counter and flour the tinfoil and your rolling pin (or use a clean, empty wine bottle). Roll the dough until thin.
Preheat the oven to 425F
Cut the chicken in half, and slice lengthwise
Put the dough on a baking sheet lined with tinfoil
Spread the bbq sauce on the dough, leaving about 1/2 inch around the edges
Spread the onions, cooked chicken, and finally cheese on the pizza. Sprinkle with rosemary.
Place the pan in the oven or directly on the rack (for a crispy crust) and bake until cheese is bubbly (about 20 minutes)
While the pizza's cooking, rinse and dry the lettuce, chop the cherry tomatoes, and grate the cheese.
Remove the pizza from the oven and cut into 6-8 pieces. Top with the lettuce and cherry tomatoes. Sprinkle the cheese on top.