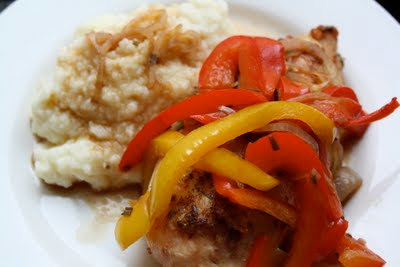 Apparently it's a thing now to put freeze-dried, pulverized cauliflower powder into processed foods to make them "healthier." Now, I like throwing nutrient-rich foods like whole grains, veggies, and fruits into food, and freeze-dried cauliflower powder is more wholesome than some additive or artificial thickener, but it doesn't have the same health benefits as a whole fruit or vegetable (be it fresh or frozen).
When you add fresh/frozen fruits and vegetables to your meal, you're amping up a few wonderful things:
Water content: makes you feel full on fewer calories
Fiber: helps you stay full longer; aids in blood sugar control
Vitamins and Minerals: keeps your body running smoothly, helps prevent disease
Phytochemicals (like antioxidants): protects your body from damage and disease by acting like a force field around your cells
So, freeze-dried cauliflower powder is better than some ingredients, but nowhere near as healthy as home-prepped veggies. Pureeing fresh or frozen vegetables is a much better way to go.
Here's what Marion Nestle, nutrition expert, author, and Professor at NYU says to the AP about the whole thing: "Oh what will they think of next…what a silly idea."
Today's recipe toes the trend by swapping some potatoes for real cauliflower in our mascarpone mashed potato side dish. Serve it alongside tender chicken topped with sauteed peppers in a balsamic vinegar sauce for a flavorful, delicious dinner.
Balsamic Chicken with Peppers & Smashed Cauliflower Potatoes
Ingredients for Chicken Dish:
3/4 tsp salt, divided
3/4 tsp fennel seeds, crushed*
1/2 tsp black pepper, divided
1/4 tsp garlic powder
1/4 tsp oregano
4 (6-oz) skinless, boneless chicken breasts
2 tablespoons olive oil, divided
cooking spray
2 cups thinly sliced red bell pepper (about 1-1/2 medium peppers)
1 cup thinly sliced yellow bell pepper (about 1 medium pepper)
1/2 cup thinly sliced shallots (about 3 small-medium shallots)
1 1/2 tsp chopped fresh rosemary
1 cup fat-free, less-sodium chicken broth
1 tablespoon balsamic vinegar
*If you don't have a mortar and pestle (and I don't), try putting the seeds in a plastic bag and lightly tapping them with a meat mallet until they break open. Then combine the rest of the spices in the same bag.
Ingredients for Cauliflower Smashed Potato Dish:
1 medium-sized Yukon gold potato (about 1#), peeled and cubed
1 head of cauliflower, de-stemmed and cut into hunks
1/3 cup 2% milk
3 TBLS mascarpone cheese
1/2 tsp salt
Preheat the oven to 450 Fahrenheit. Combine 1/2 tsp salt, fennel seeds, 1/4 tsp black pepper, garlic powder, and oregano in a small plastic bag and shake to combine. Brush chicken with 1-1/2 tsp oil. Sprinkle spice rub over chicken.
Add 1-1/2 tsp oil to a large skillet on medium-high heat. Add chicken and cook 3 minutes or until browned. Turn chicken over and cook 1 minute.
Arrange chicken on an 11×16-inch baking dish coated with cooking spray. Bake at 450 Fahrenheit for 10 minutes or until done. (Done = thermometer in the middle of the breast reads 165 Fahrenheit or above). Use the pan for the balsamic peppers (below).
Recipe: Balsamic Peppers:
Heat remaining olive oil over medium-high heat. Add bell pepper slices, shallots, and rosemary. Saute 3 minutes.
 Stir in broth, scraping the pan to loosen browned bits. Reduce heat and simmer for 5 minutes.
Increase heat to medium-high. Stir in vinegar, 1/4 tsp salt and 1/4 tsp pepper. Cook 2 minutes, stirring frequently. Serve bell pepper mixture over chicken.
Recipe – Cauliflower Smashed Potatoes
Place potatoes in a large saucepan and cover with water. Bring to a boil, reduce heat, and simmer for 15 minutes or until soft.* Drain, and place in large bowl.
While potatoes are cooking, bring large pot of salted water to a boil. Add cauliflower and cook ten minutes, or until tender. Drain and add to bowl with potatoes.
Add the milk, mascarpone cheese, and salt. Mashed to desired consistency. For an even smoother bite, use an immersion blender.
*to get the best nutritional bang for your buck, steam instead of boil vegetables. You lose nutrients in the water. I didn't have a great steaming apparatus handy last night, but here's how you do it:

Stovetop Steaming Option: Place a colander or steamer basket on top of a pot of water. The colander/basket should fit snugly, and the water in the pot should just barely touch the bottom of your steaming apparatus. Once the water comes to a boil, add the veggies and loosely or half cover.

Microwave Steaming Option: If you like to microwave (great time-saver but sometimes controversial cooking method): place veggies in a microwave safe bowl and fill with a little water (like the amount you'd wash them with). Cover the bowl with a vented microwave safe lid or plastic wrap with one corner left open to vent.
Thanks to
About.com
for some great tips on steaming