This month's Recipe ReDux challenge was, well…challenging. The theme was to use fermented food in a recipe, or ferment something yourself.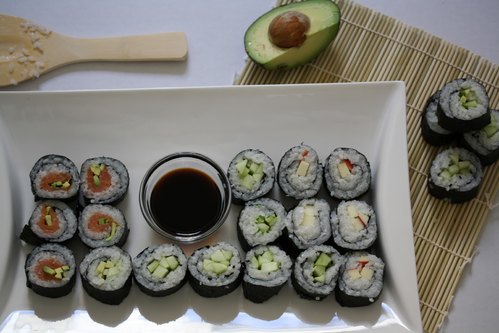 I didn't want to buy a giant jar of sauerkraut because I don't really like it…or pickles because I'd eat one or two and leave the rest aging the fridge…or kefir because I find its identity too confusing – is it a smoothie? is it a yogurt? is it a milk?
And I definitely wasn't going to ferment anything myself. I am way too scared of giving myself botulism to can food.
So that left me with my kitchen pantry. With some neglected bottles of rice vinegar, soy sauce, and white wine vinegar on hand (all fermented – CHECK!), I decided to make sushi. A quick visit to the market, and I was back home with sushi rice, an assortment of veggies, a package of smoked salmon, and some sheets of seaweed. Check out my step-by-step instructions below to make your own sushi at home, and enjoy the benefits of fermented foods.
What are those benefits? Well, I couldn't find a lot of reputable summaries of the benefits of fermented foods. There is definitely information out there, but nothing I'm comfortable promoting. There's emerging evidence, but it's not consistent and there are a ton of different strains out there being examined, according to an article in Food & Nutrition Magazine. The article reports that recent studies show that the bacteria in fermented foods may be beneficial for many GI conditions.
Making Sushi at Home:
Ingredients:
Sushi rice (only use short or medium grain rice, or "sushi" rice, otherwise it won't stick together and roll)
Rice wine vinegar
Mirin/sake or white wine vinegar (depending on rice seasoning recipe below)
Low sodium soy sauce
Seaweed paper
Assorted veggies, sliced into logs. Examples: baked sweet potato, cucumber, avocado, carrots, smoked salmon
Steps:
Rinse sushi rice under cold running water at least 5 times, until the water is no longer milky. You need to wash off a lot of surface starch so the rice isn't too sticky.
Cook the sushi rice following the directions on the package or using a rice cooker.
While the rice cooks, make the rice seasoning. I used this recipe by sushi expert Masaharu Morimoto. I found it too salty – try one tablespoon instead of two. Another recipe you can try is this one by The Pioneer Woman.
Add the seasoning to the rice according to the seasoning instructions.
Layer seasoned rice on one piece of seaweed paper. Add your favorite vegetables and/or smoked salmon on one side and roll. Slice into six pieces with a wet knife. Dip into soy sauce.
Note: Many grocery stores sell bamboo mats and a bamboo spatula – the mats make it easier to roll and the spatula is perfect for dressing, mixing, and cooling the rice. They also make you feel and look totally pro.
I made the following rolls: smoked salmon/avocado sushi; cucumber; cucumber/avocado; apple (bad idea – skip this)