I am so excited to tell you about this meal.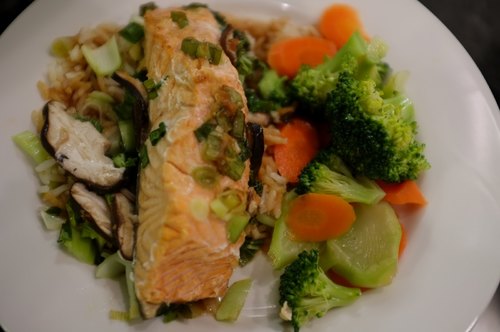 MEAL is the operative word here. You put rice, chopped up veggies, fish, and Asian sauce in a tinfoil pocket, bake it for 20 minutes, and then you have an entire meal. No timing anxiety (how do I get the vegetables and rice done at the same time as the fish? What if they get cold before dinner?). No extra pots to clean up (except one small pot for the rice). Just you, ingredients, tinfoil, balanced meal. Boom.
To add extra vegetables to your dinner, try a side of blanched carrots and broccoli with honey-lime sauce. You serve them cold or room temperature, so make them whenever you have time and serve later.
This is also a great meal to make with kids. If they're too young to chop, let them arrange the tinfoil packets- they can fold the foil, add and stack all the ingredients, and help you fold the tinfoil nice and tight.
This is a home run from the Moosewood Cookbook.
Asian Salmon Dinner (adapted from Moosewood Restaurant Cooks at Home) 
Ingredients
2 farm fish fillets or steaks (5-6 oz each) or 1 large fillet (10-12 ounces), cut in half.**
1 cup cooked rice
2 cups coarsely chopped mustard greens or bok choy
2 fresh shiitake mushrooms, sliced
2 scallions, chopped
1 tablespoon vegetable oil
1 teaspoon grated fresh ginger root
1 garlic clove, minced or pressed
2 tablespoons soy sauce
2 teaspoons dark sesame oil
chili oil (optional)
**Just about any fish works in this recipe (if you're at a market with a fishmonger, have a conversation with him – he'll give you some great ideas). Consider mahi mahi, scrod, turbot, haddock, or salmon, among other firm fish (you don't want to use cod, for example, which will get too soft).
Recipe:
Preheat the oven to 450 degrees Fahrenheit
Fold two large sheets of aluminum foil in half to make a double-thick square. Brush oil in the center of each square.
Spread half of the rice on the center of each foil square and then layer the greens, mushrooms, fish, and scallions on top of the rice.
In a small bowl, whisk together the oil, ginger, garlic, soy sauce, sesame oil, and a few drops of the optional chili oil. Pour half of the sauce over each serving. Fold the foil into airtight pockets.
Bake for 20 minutes. Carefully avoid the steam that will be released, open a packet, and check for doneness. (Try flaking the fish with a fork).
To serve, carefully open the foil and slide the meal onto a plate or bowl.
Side of Carrots and Broccoli with Honey Lime Dressing (adapted from Moosewood Restaurant Cooks at Home)
Ingredients
2 Carrots, thinly sliced on the diagonal
3 Stalks of broccoli, heads cut into florets (small trees), and stalks peeled and sliced on the diagonal
Dressing
1 tablespoon dark sesame oil
1 tablespoon dark soy sauce
2 teaspoons honey
3 tablespoons fresh lime juice (about 1 lime)
salt and ground black pepper to taste
dash of chili oil, Tabasco, or other hot pepper sauce (optional)
sesame seeds for garnish (optional)
Recipe
Bring about 2 inches of water to a rapid boil in a covered pot. When the water boils, add the vegetables and cover. Simmer for about 5 minutes, until tender, but firm.
While the vegetables cook, whisk together the dressing ingredients.
Drain the vegetables, plunge them into a bowl of ice cold water. Drain again, and chill until ready to serve or serve at room temperature.
Just before serving, toss the vegetables with the dressing.
Asian Salmon Step-by-Step Photos: 
Layer rice, greens, mushrooms, and fish on the foil square
Top the fish with chopped scallions and Asian sauce
Create an airtight seal around the meal
Carefully open the packet to reveal your delicious dinner