Leftover risotto is good, but you know what's better? Leftover risotto formed into little balls, stuffed with mozzarella cheese, rolled in panko crumbs, and baked into a crispy, melty treat. It's so easy to give these leftovers a delicious makeover.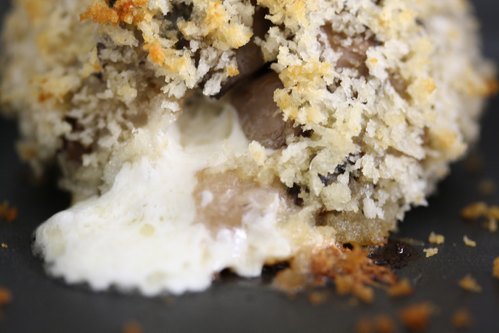 Ingredients: leftover risotto, mozzarella cheese (cubed), panko bread crumbs, fork beaten egg, olive oil spray
Recipe:
Take a small bunch of risotto in your clean hands, put a cube of mozzarella in the center, and form into a golf ball shape.
Brush fork beaten egg on the risotto ball (or dip in egg) and roll in crispy panko (Japanese bread crumbs). Spray lightly with olive oil.
Bake in the oven at 400 degrees for 20-30 minutes, until golden brown.
Enjoy plain or with a side of marinara sauce.
These aren't healthy – but they're delicious and you could serve them as an appetizer before a healthy meal or a side dish – perfect for little kid hands. Arancini are not an every day food, so enjoy them as part of a healthy balanced diet.
Step-by-Step:
Take risotto and cubes of mozzarella cheese
Fit a cube of mozzarella into the risotto, cover with more rice and shape into a golf ball
Cover the risotto with egg
Roll in panko crumbs
Bake until melty and crispy
Enjoy a yummy forkful