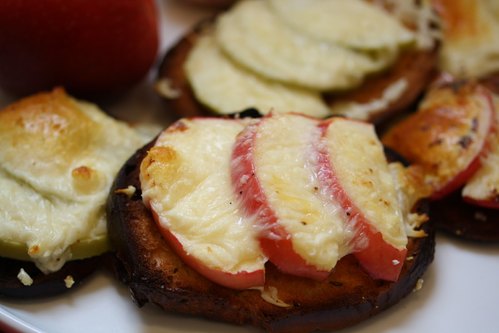 Day old bagels get a second life when they're sliced thin, sprayed with olive oil, and toasted crisp in the oven. Pick up a variety at your nearby market or favorite bagel haunt – the everything, onion, rye, whole wheat, and pumpernickel are all delicious in chip form.
You can eat pretty much anything with a bagel chip. They're a base for open-faced sandwiches, a conduit for getting hummus from the container into your mouth, and a tasty tray for tart apples and shredded cheddar cheese.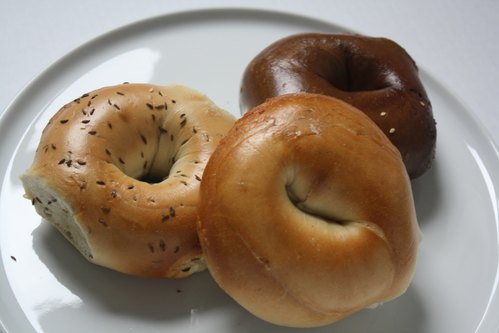 These guys go great with bowl of soup or paired with a healthy fat for a weekend snack. Whole grains (like the rye or whole wheat bagels) plus a protein or healthy fat make a perfect snack. Try a bagel chip with sliced turkey or almond butter to get you from lunch to dinner.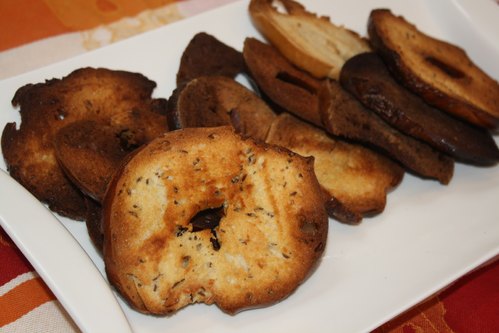 Cabot Creamery sent me Sharp Extra Light (75% reduced fat) cheese to play around with. It has a mildly sharp flavor, shreds really easily and melts and browns like a cheese should. I like using full fat cheese when I'm not using a lot – like grating fresh Parmigiano-Reggiano on top of pasta. But, when I need a lot of cheese, like for a lasagna or these cheese bagels, I like to use (or mix in) some reduced fat cheese.
Ingredients: bagels, apples (sliced) and shredded cheese
Bagel Chips with Sliced Apples and Melted Cheddar Cheese:
Preheat the oven to 375 degrees Fahrenheit and line a baking sheet with parchment paper
Thinly Slice bagels into rounds, being careful of your precious fingers!
Spray rounds with olive oil (as you know, I love the Misto)
Arrange bagels on the baking sheet and bake for 15 minutes, flipping them over halfway through
Layer bagels with apples and cheese and place under the broiler for 5 minutes, watching to make sure they don't burn.
Let cool for 2-3 minutes before eating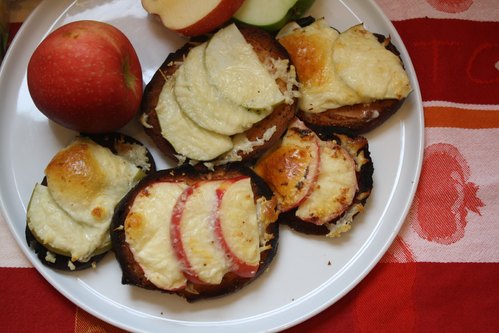 Note: I received free samples of cheese from Cabot Creamery. I was under no obligation to write about the product and received no monetary compensation.