I loved American Chop Suey when I was growing up.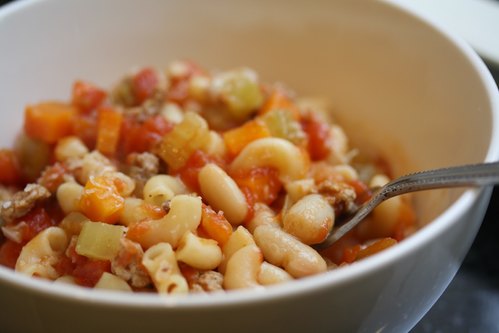 For those of you who didn't grow up in New England, Wikipedia says you may know it as macaroni and beef or American goulash. No matter what you call it, it's a delicious comfort food dinner. Traditionally a savory stew of of chopped tomatoes, macaroni pasta, and ground beef, I made a healthier version by swapping ground beef for lean ground turkey, adding a ton of chopped veggies, and starting from scratch (some recipes call for Campbell's spaghetti – I used chopped tomatoes and organic, low-sodium broth instead).
Aside from the taste, this dish is an example of how you can stretch your grocery budget and improve your health simultaneously. You can save money, eat less saturated fat and cholesterol, and keep more food ready-to-go in your freezer if you replace most of the meat in a dish with beans, vegetables, and/or rice. Dried beans are one of the cheapest foods in the market – you can boil them, refrigerate them, and use them in meals throughout the week. Canned beans are a great quick alternative, but since they're usually swimming in salt, rinse thoroughly with cold water in a colander before using. Freeze the meat you saved, and it's handy for future meals.
You can easily create a very low-sodium version by using canned diced tomatoes with no salt, low-sodium broth, and prepared dried beans. Go vegetarian by nixing the meat altogether or using a non-meat substitute like Field Roast vegan sausage links (made of whole grains, veggies, and spices) in place of the turkey.
Oh, and I took a knife skills class two weeks ago, and learned how to cut vegetables properly. I was really excited to use my new-found skills to medium-dice the carrots, celery, and onions…I had to post a photo of the prep so you could see!
American Chop Suey
Serves 4, Total Time to Dinner: 45 minutes
1 + 1/2 tablespoons extra-virgin olive oil
3 celery stalks, diced medium
2 carrots, diced medium
1 small red onion, diced medium
2 garlic cloves, minced
1/2 pound of ground white meat, lean turkey breast
coarse salt and ground pepper
1 sprig fresh oregano
1 can (28-oz) chopped tomatoes (or 26-oz box chopped tomatoes)*
2-1/2 cups low-sodium chicken broth
1 Parmesan rind (optional), plus 1/4 cup grated Parmesan for serving
1 cup macaroni pasta
1 can (15.5 ounces) white beans such as cannellini, rinsed and drained
In a medium saucepan, heat 1/2 tablespoon of oil over medium. Add the ground turkey and brown, cutting it with a spatula into small pieces while it cooks. While turkey browns, begin step 2.
In a medium heavy pot (cast iron works well here), heat oil over medium. Add celery, carrots, onion, and garlic. Season with salt and pepper. Cook, stirring occasionally, until vegetables are soft, 9 minutes.
Add the cooked turkey, oregano, tomatoes, broth, and Parmesan rind (if using) to the pot. Increase heat to high (or keep on medium and wait a little longer if using cast iron), and simmer rapidly until liquid thickens slightly, 5 minutes.
Add pasta and cook, partially covered until tender, 10 – 15 minutes.
Add beans and cook until warmed through, about 2 minutes.
Before serving, remove the Parmesan rind and oregano sprig. Serve in bowls with a sprinkle of grated Parmesan.
*I frequently buy tomatoes in aseptic boxes instead of cans. I do used canned foods, but sparingly because I try to minimize my exposure to BPA, which is found in the lining of most soup and drink cans. For more information, check out this article from The New York Times.