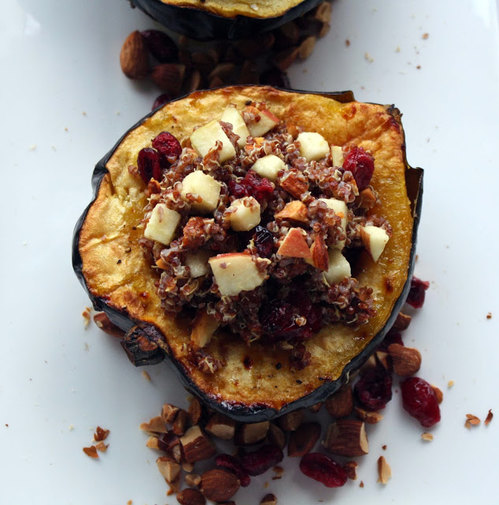 Thanksgiving is tomorrow! If you're still planning your menu, I've got a simple, wholesome side dish that combines some of the best Thanksgiving flavors in a pretty package. You roast acorn squash halves and then fill them with a red quinoa, fruit and nut salad all tossed in warm maple vinaigrette.
So, on this Technique Tuesday (taking place on a Wednesday because Abigail and I both moved last week and are still unpacking boxes…), here's our "How To Whip Up an Impressive, Healthy, and Maple-y Side Dish."
Vegan & Vegetarian friendly!
On this Thanksgiving, we'd like to take a moment to tell you how THANKFUL we are for all of you. Wishing you a happy, delicious, guilt-free (enjoy those holiday foods!) Thanksgiving.
Holidays can be a difficult time for those with sick loved ones, or who have experienced loss. Please take care of yourself and surround yourself with friends and family. Sending you warm wishes and supportive virtual hugs.
Here's the recipe – please let us know if you make it – we'd love to hear from you and see your photos! Visit Abigail and I…
On Facebook: The Soul of Health and Caroline Kaufman Nutrition
On Pinterest: The Soul of Health and Caroline Kaufman Nutrition
On Twitter: The Soul of Health and Sweet Foodie

Acorn Squash with Red Quinoa, Cranberries, Apples, and Toasted Almonds – Tossed in Maple Vinaigrette (serves 4)
Ingredients:
For the Squash:
2 acorn squashes, halved and seeded
8 teaspoons olive oil
8 teaspoons brown sugar
Pinch each of salt & pepper
For the Filling:
For the Maple Vinaigrette:
¼ cup pure maple syrup, warmed
¼ cup extra-virgin olive oil
1-½ Tablespoons apple cider vinegar
Pinch each of salt and pepper
Directions: 
Roast Squash:
Preheat oven to 400 degrees Fahrenheit and line two rimmed baking sheets with aluminum foil.
Rub 2 teaspoons of olive oil or butter into each squash half. Sprinkle 2 teaspoons of brown sugar into the center and add a pinch of salt and pepper all over the top.
Roast, cut side up, until golden brown and very tender, 40-60 minutes.
Make Vinaigrette:
Whisk the olive oil and apple cider vinegar into the warm maple syrup.
Add salt and pepper to taste.
Assemble Salad:
In a large bowl, gently toss together: red quinoa, dried cranberries, roasted almonds, chopped apple, and maple vinaigrette.
Spoon ¼ of the quinoa salad into each acorn squash half and serve.