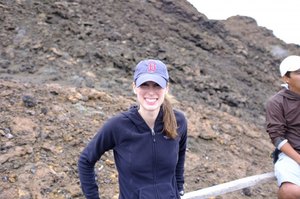 Hi! I'm Caroline Kaufman. I'm so glad you stopped by!
I know you're busy, and you've probably got a million things to do – food shopping, cooking dinner, dishwashing, work, a dinner party, the gym, a school-pick up, volunteering, laundry…
Well, funny enough, that's where I come in.
I'm here to help you eat well and organize your life to optimize health and support inner calm…without adding guilt or stress.
You'll learn common-sense nutrition advice that makes your life easier, not more complicated.
I'm a Boston-raised girl with a love for baking and a ridiculous amount of food-centered childhood memories. The people in my life have expressed love through food, and I do it too. When I don't have a well-stocked kitchen, and I feel like I'm not providing my family with healthy meals and snacks, I don't feel like I'm showing them all the love I feel! I guess it's in the genes.
My common-sense advice has been published in places like Health, Fox News, Eating Well, Real Simple, New York Metro Parents, upwave, PBS Parents, and Food & Nutrition Magazine. I love to collect and analyze the research for you, and then break it down into actions that you can take immediately.
I want to help you create a life where living healthfully comes easy.
Where You've Seen Me:

Professional Bio:
Caroline Kaufman, MS, RDN is a Registered Dietitian Nutritionist, freelance writer, media spokesperson and blogger. She earned a Masters of Science in Nutrition Communication from the Tufts University Friedman School of Nutrition Science & Policy, and an A.B. in English Literature from Harvard. Her advice has been featured in  a variety of magazines and websites such as Health, EatingWell, Fox News, NY Metro Parents, PBS Parents, upwave, and Food & Nutrition Magazine.
As the lead dietitian for Health magazine's "Must Eat List," Caroline helped develop the criteria for health-promoting packaged foods. She is a diet and nutrition expert on the review board for Turner Broadcasting's upwave, and a contributing editor for SuperKids Nutrition.
She is a Media Spokesperson for the California Dietetic Association, and participates in the following Academy Dietetic Practice Groups: Nutrition Entrepreneurs; Behavioral Health Nutrition; Food and Culinary Professionals; School Nutrition Services; and Sports, Cardiovascular, and Wellness Nutrition.