As the weather starts to cool down, you'll likely feel like staying in. I've spent most of my life in cold-weather states like Boston and New York, so I know that the best way to be social without having to leave the house is to throw a party! Who's with me here?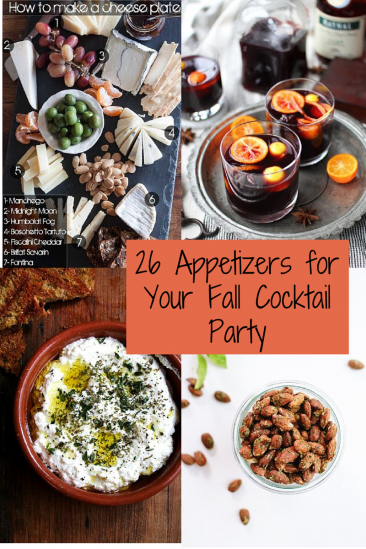 Since you're a health-minded person too, I thought you might enjoy…
a roundup of the best healthy appetizers for a fabulous fall cocktail party.
The recipes that aren't nutrition powerhouses like the mini pizza cups are portion-controlled so your guests can get their share of fatty, salty goodness in a bite-sized package, and then fill up on the artsy veggie cups, sneaky "creamed" spinach, and baked (not fried) vegetable wontons…for example.
I've also thrown in some flirty cocktail recipes and three healthier desserts to tie the whole evening together.
Appetizers:
**Pick a few appetizers to serve and supplement with whole grain crackers or baguette, lots of fresh sliced vegetables for snacking or dipping, and fresh grapes or sliced fruit.
Cocktails:
23. Mulled Wine – Flourishing Foodie
Desserts:
24. Pumpkin Pie Turnovers – Dawn Jackson Blatner (using pre-made wonton wrappers!)
+ Bonus! Handy Guide to Creating the Perfect Cheese Plate by A Cup of Jo:
Question…Which appetizers, drinks or desserts will you be serving at your next cocktail party?