Are you a curious carnivore? If you're a meat-eater (or live with one) and you want to add a vegetarian meal to your weekly rotation, start here. I've searched far and wide for these 25 vegetarian recipes even carnivores will love.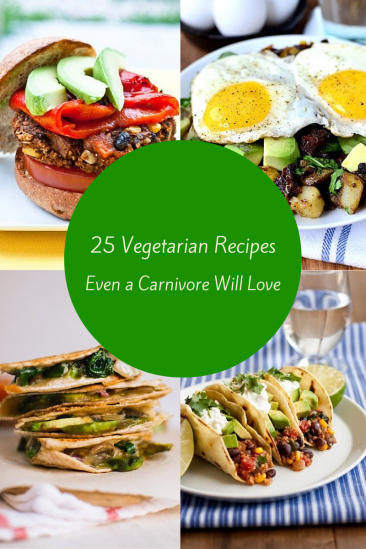 They're based on dishes you know and love already – eggs, pastas, pizzas, burgers, popular Mexican entrees, and noodle bowls.
Try introducing just one a week and see how it goes. You've got about four months of recipes right here if you make a plant-based entree every Monday!
Breakfast-for-Dinner:
2. Amazing Zucchini Pie – The Six O'clock Scramble (recipe on PBSParents)
Italian:
Grilled (kabobs & burgers):
Mexican-style:
Noodle Bowls & Stir Frys