14 Healthy Weeknight Chicken Recipes
Welcome to Thursday's recipe roundup! I've assembled two weeks worth of recipes starring America's favorite dinner staple – chicken. What is your favorite weeknight chicken recipe? Please share it in the comments below!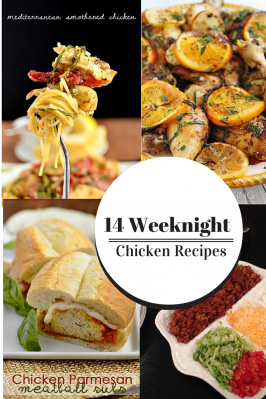 Recipes I Make Again & Again:
A one-pot meal and my most re-pinned recipe on Pinterest.
Adam's favorite dinner that I make, and even loved by a baby doing baby-led weaning who happily gnawed on chicken and artichokes while the rest of us dug in. It's enough for 2 people with leftovers, but when I make it for 4 people, I double the "smothering sauce."
A healthy swap for a Chinese food favorite.
4. Chicken Taco Night – Caroline Kaufman Nutrition
A basic assembly-serve dinner and an easy answer to "what should I make tonight?" Saute ground chicken (half white meat and half dark meat) with taco seasonings as directed on the packet. Choose a seasoning without any added sugar. Serve with a toppings bar of shredded cheese, mashed avocado, salsa, beans, shredded lettuce, chopped tomato and/or sour cream or Greek yogurt. Warm corn tortillas (with no trans fats or added sweeteners) in the oven and serve!
I made this the night Adam proposed. It's a beautiful basic roast chicken recipe to have in your back pocket.
For a super time-saver, Trader Joe's sells plain grilled chicken strips that work perfectly in this salad.
Recipes I Want to Try:
 Cookbook Extra:
If you have Ellie Krieger's cookbook, Weeknight Wonders: Delicious, Healthy Dinners in 30 Minutes or Less
, try the Whole Grain Penne with Chicken, Mushrooms and Spinach – it's fantastic. I was skeptical because it doesn't have a sauce, but it doesn't need one! So flavorful. (Note: That's an affiliate link, which means if you buy the book, I receive a commission from Amazon)
Tell me – what's your favorite weeknight chicken dinner recipe?