You get home from work. You're cold. You're hungry. You're…ready to eat. With these 10 quick, hot and healthy meals for cold days, you'll be warmed up (in your comfy clothes, right?) and eating dinner in 30 minutes.
Decide what you'll make over the weekend and pick up the ingredients so you have what you need when you need it. Remember shortcuts like pre-washed greens, shredded carrots, and taco toppings from the salad bar, which will save you time in the kitchen.
1. Flatbread Veggie Pizza – Caroline Kaufman Nutrition
2. Banh Mi-Style Flatbread with California Grapes – Patricia Bannan, MS, RD for the California Table Grape Commission (Patricia Bannan works with the California Table Grape Commission)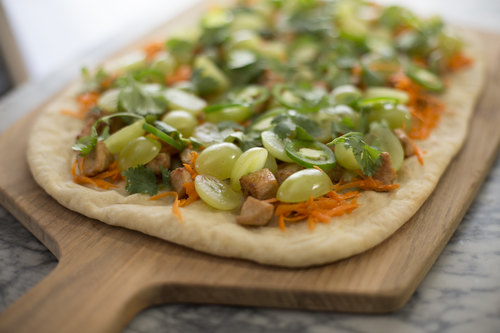 3. Pesto Baked Salmon with Veggies – fANNEtastic food
4. Leek and Mushroom Chicken Skillet – Iowa Girl Eats
5. Fusilli with Prosciutto and Kale – Aviva Goldfarb, Family Dinner Made Easy
6. Lemon-Tarragon Chicken with Squash Ribbons – Ellie Krieger
7. Easy Thai Corn Chowder – Sharon Palmer, RDN
8. Saucy Tomato & Artichoke Chicken – fANNEtastic food
9. "Bachelor's" BBQ Chicken Dinner – Caroline Kaufman Nutrition
Chicken Tacos – Caroline Kaufman Nutrition
This is one of my family's favorite last minute meals! See the directions below.
Saute ground chicken (half white meat and half dark meat) with taco seasonings as directed on the packet. Choose a seasoning without any added sugar. Serve with a toppings bar of shredded cheese, mashed avocado, salsa, beans, shredded lettuce, chopped tomato and/or sour cream or Greek yogurt. Warm corn tortillas (with no trans fats or added sweeteners) in the oven and serve!